---
"Natural Healing with Herbs for a Healthier You"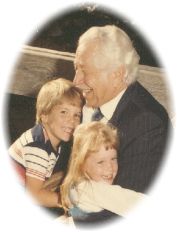 "I appreciate the fact that it is uncluttered. I also appreciate that there is not a ton of advertising--pushing some product."

- Pwyll L., Oregon
"It helps to keep our minds open and aware of things in our diets that have change. The newsletter is great, I wish there were more like it available. Most things I get are always trying to get money, meaning that is their focus. I don't see that happening with Herbal Legacy. The teaching of the Great Dr. Christopher as well lives on through Herbal Legacy. He was a great man and through HL still lives on."

- Michael S., Minersville, Utah
"For me, I feel like it is a good reminder to continue on a good path. We are all journeying to the best health that we can and so it's nice to have good reminders."

- Melanie H., Duvall, Washington
"I like the honest information and concern of people taking charge of their own basic health issues."

- Janet H, West Richland, Washington
"I find the newsletter informative and genuine. I believe Herbal Legacy really wants to help people enjoy better health."

- Mary M, Mayville, New York
"It has such a great variety of information."

- Rachael C, Mona, Utah
"I really admired Dr. Christopher and strongly believe in his healing ways. I was very happy to know that you have this Herbal Legacy newsletter. It keeps me up with herbal healing and health in general."

- Sherry A, Driftwood, Texas
"I attended Dr.Christopher's lectures back in the 70's and I have been a faithful follower of David Christopher and the radio show. I am so pleased with the Newsletter that gives me even more help. Thank You."

- Celeste M, Orem, Utah
"Easy read - keep up the great work!"

- France D., Georgetown, Ont.Canada
"I always look forward to the newsletter!! It is practical and easy to understand."

- Mary O, Custer, Washington
"I like the personalized articles, knowing that the person knows thru experience what they are writing about makes it even more interesting.

"I love that I can forward an article of interest to family and friends far and wide and know with confidence that it will help their particular problem and I dont need to lecture them about it. When dealing with family sometimes the written word of a knowledgeable third party gets their attention better than you can and they are more likely to try what you have been telling them for years. So grateful for the newsletter."

- Annie B, Pleasant Grove, Utah
"I love the information and updates that are relevant in my life and in others."

- Becky V, Caro, Michigan
"Herbal use is a daily part of my families life. I find your newsletter to be a great addition to the books and teachings I have and use."

- Chris, Grant Co. Kentucky
"I like that it is short, too the point, and almost always something i am interested in or good information that I know i will use."

- Andrea G, Pennsylvania
"It open your eyes to the wonders of nature that was found by man and how it was generously shared worldwide."

- Ellen L, Mandaluyong City, Philippines
"This is my favorite newsletter. I look forward to learning something new and useful every week. It's full of down-to-earth health wisdom and recipes."

- Elaine J, East Texas
"I am extremely happy something like this is available to the greater public, also I value that it is available on line. I like the way it is written. English is my second language and I found the style of a newsletter very understandable and friendly to an outsider like myself."

- Adriana S., New Lebanon, New York
"I like the homemade remedies, how easy to make and how easy to use AND THEY WORK!! Love it!! Keep up the good work."

- Karen B, Canada
"I love your format, the interesting help you give me, that always seems relevant to my family. And the recipes are great!"

- Lisa W, Wolcott, Vermont
"I LOVE all the information that is given. I have not been to a doctor in 25 years. The information you give is valuable as I use it in my everyday life. I don't believe my body would be as healthy as it is if I didn't have your herbs and remedies."

- Marlene H, Rockwall, Texas
"I find it very consistent with what I believe and want to do with food and healing. I like the personal touch."

- Lynetta D, Richfield, Utah
"Wonderful, keep it up!!!!!!! Thank you for sending and taking the time to put them together!"

- Kelli F, Boise, Idaho
"Thank you so much for the newletter. It gives me info that comes in very handy in real life. I enjoy reading the info in it because it helps with my daily living as well as if an emergency should come up. I love studying natural health info."

- Cece D, Texas
"Thank you for letting me recive the news letter, I love it. and I love learning new things."

- MaryAnne B, Cedar City, Utah
"I always learn something new. I never erase the issues because I so value the information."

- Alicia C, Cedar Hills
"I am fairly new to the herbal healing world and I find your newsletter to be very informative and enlightening...I look forward to reading each and every one!"

- Katie G, Green Bay, Wisconsin
"It is down to earth, easy to understand and wonderful for sharing with folks who are just beginning to understand natural health. It is informative, plus exciting to receive. It is a "perk" in a busy day. With the signs of the times showing in our financial world as well as in the availability of our food sources, this little letter shouts loudly of the opportunities we have to maintain a healthy lifestyle by using our own knowledge and ingenuity."

- Lynn B, Neenah, Wisconsin
"It's nice to have the commitment of the Christopher legacy to go back to our roots and retrain America in the original treatments once taught by our Grandparents many generations ago. They still work today!"

- Trudy S, Crossille, Tennesee
"I enjoy it very much and am happy I recently found it. It is very helpful to me as I am always trying to learn new ways to improve my health and my family's health."

- Danielle T, Mapleton, Utah
"I have a life-long interest in herbs and natural healing, and I've learned a lot from your Newsletter. I especiall like the recipes."

- Madalyn B, Blanding, Utah
"I really like the simple and direct approach to herbalism."

- Anne O'B, Silver Lake, Wisconsin
"I wish more people would pay attention to the great information you share in your newsletter and wake up to what is happening before it is too late!"

- Charlene M, Redland Bay, Australia
"I am reaping the benifits of others knowledge - I could thank you for eternity and it wouldn't be enough. Thanks."

- Marie R
"It's not too long to read each week and the topics are interesting. I find the articles interesting and informative. I share the information with my family and friends."

- Jackie R, Dallas, Texas
"It is always revelant to me. I like the recipes. Its simple and not time consuming. The information is always written in a straight-forward manner, easy to read and digest."

- A Gardner, Pittsburgh, Pennsylvania
"First of all, thank you so much for providing this letter especially to those who are like minded. In this day and age, it is imperitive that we stick together for the cause of natural health and practice nature's laws of healing. Your newsletter helps us keep this bond."

- Sheryl S, Colorado
"Thank you. I look forward to your newsletters each week. Keep up the great work! It helps me feel connected with like-minded people. It helps keep me on track on my quest for better health for me and my family."

- Linda H, Elko, Nevada
"I like to know that I am not alone with my belief in natural healing and I love to learn. I enjoy the articles in the newsletter and find myself sharing these beliefs and ideas with family members, friends and co-workers. Thank You Very Much for taking the time to put together a news letter that we may all benefit from."

- Shawn C, Payson, Utah
More than 35 of our most popular recipes in a beautiful, printable format.
FREE GIFTS
Just for signing up for the newsletter
When you sign up for Dr. Christopher's Herbal Legacy Newsletter you get the following free gifts:

· A Healthier You Starter Kit e-book - this 34-page special report is packed with a lot of great information as you begin (or continue) your journey to become "A Healthier You." This is a report that you are going to want to print out so you can have all the information right at your fingertips. It has a price tag of $29.95 - but you get it free.

· Herbal Legacy Healthy Living e-Cookbook - we have compiled some of our best recipes into a 49-page cookbook - just for you! You are going to love this cookbook.

· Two week FREE membership to David & Fawn Christopher's A Healthier You Radio website. This website is packed with audio programs of more than 15 years of David & Fawn's popular radio program. No credit card is required for your trial membership!

· Did we mention that the newsletter is absolutely FREE as well? You can learn more about the newsletter below.
FREE two week membership to A Healthier You Radio
SIGN UP HERE:
I LIKE THE PERSONALIZED ARTICLES
---
---
RELEVANT IN MY LIFE
---
GOOD INFORMATION THAT I KNOW I WILL USE
---
UNCLUTTERED
---
VERY UNDERSTANDABLE AND FRIENDLY
---
OPENS YOUR EYES TO THE WONDERS OF NATURE
---
ALWAYS SEEMS RELEVANT TO MY FAMILY
---
I LOVE ALL THE INFORMATION THAT IS GIVEN
---
VERY CONSISTENT WITH WHAT I BELIEVE
---
THIS IS MY FAVORITE NEWSLETTER
---
I NEVER ERASE THE ISSUES
---
I LOVE IT
---
NICE TO HAVE THE COMMITMENT OF THE CHRISTOPHER LEGACY
---
IT IS VERY HELPFUL TO ME
---
SIMPLE AND DIRECT
---
NICE TO HAVE GOOD REMINDERS
---
I COULD THANK YOU FOR ETERNITY
---
ALWAYS RELEVANT TO ME
---
We invite you to subscribe to our newsletter.

Here are a few ways you will benefit from subscribing to our newsletter.

You will learn how to:
| | |
| --- | --- |
| • | lose weight safely and permanently |
| • | lower blood pressure or cholesterol without harmful drugs |
| • | fight cancer and other "incurable" diseases |
| • | have a healthy pregnancy |
| • | heal broken bones |
| • | beat strep throat in 24 hours |
| • | overcome long-standing health problems |
| • | And much more! |
In short, you will be able to stay up-to-date on health issues concerning YOU.

BONUS! Our informative newsletter also includes a healthy, great tasting recipe!
There are a lot of books, Internet sites and newsletters where you can find information about natural healing and herbs. How do you know who or what to trust? Why should you trust us?

Dr. John R. Christopher is considered the authority in natural healing with herbs. He created more than 50 herbal formulas and wrote numerous books, all considered classics in the field. His herbal formulas brought about almost miraculous healings.

Dr. Christopher's mission was to teach people how to cleanse and nourish their bodies so they could heal and prevent disease. Dr. Christopher started The School of Natural Healing in 1953 to teach others natural healing principles. Since that time thousands have benefited from his teachings. Graduates of the School receive a Master Herbalist degree. Master Herbalist's are trusted worldwide for their experience and knowledge.

Each week you will receive our newsletter containing articles by Master Herbalists (or other experts in their field). These articles will keep you up-to-date on all the latest health concerns. You will also get a healthy, delicious recipe with each newsletter.

Sign up now:
We are confident that you are going to love the newsletter, but don't just take our word for it - here is what some of our readers have said:
---
GREAT ADDITION TO THE BOOKS AND TEACHINGS
---
I WISH MORE PEOPLE WOULD PAY ATTENTION
---
PRACTICAL AND EASY TO UNDERSTAND
---
EASY READ
---
INFORMATIVE AND GENUINE
---
LEARNED A LOT FROM YOUR NEWSLETTER
---
I LIKE THE HOMEMADE REMEDIES
---
I SHARE THE INFORMATION WITH MY FAMILY
---
KEEPS ME UP WITH HERBAL HEALING AND HEALTH
---
WISH THERE WERE MORE LIKE IT AVAILABLE
---
HONEST INFORMATION
---
HELPS US KEEP THIS BOND
---
I AM SO PLEASED WITH THE NEWSLETTER
---
COMES IN VERY HANDY IN REAL LIFE
---
HELPS KEEP ME ON TRACK
---
DOWN TO EARTH, EASY TO UNDERSTAND
---
FIND MYSELF SHARING THESE BELIEFS
---
INFORMATIVE AND ENLIGHTENING
---
GREAT VARIETY OF INFORMATION
---
WONDERFUL, KEEP IT UP!!!!!!!
---