---
"Natural Healing with Herbs for a Healthier You"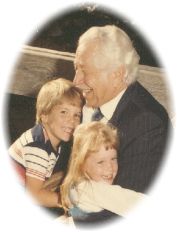 We hope you enjoy reading about Dr. Christopher's life. To purchase a copy, please visit
Christopher Publications
.
Introduction
Chapter 1
I'm Going to Be a Doctor
Chapter 2
"I Don't Care If He Puts Horse Manure on My Head" A Prescription For the Mess Sergeant
Chapter 3
After the War; There Were Weeds: Harvesting Herbs at Dawn
Chapter 4
Without Honor in His Own Country: The Return to Salt Lake City
Chapter 5
"We Missed That One Day of Summer": The Chilly Town of Evanston
Chapter 6
A Legacy of Courage
Published and distributed by:
Christopher Publications, Inc.
P.O. Box 412 Springville, Utah 84663
(801) 489-4254 (800) 372-8255
Copyrightę 1993 Christopher Publications
All Rights Reserved. No part of this book may be reproduced in any form without the permission of the publisher.
Printed in the United States of America
ISBN 1-879436-14-0